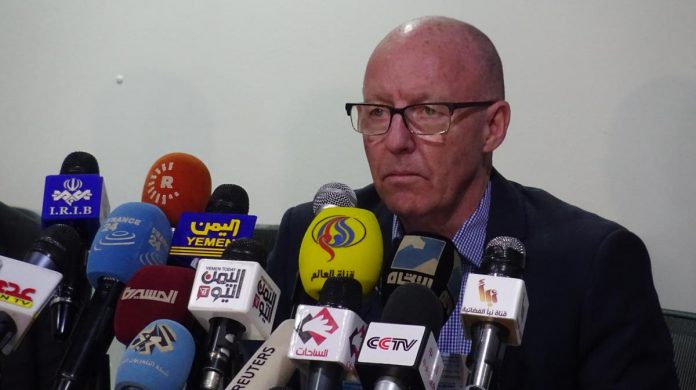 Al-Thawra Net
The Humanitarian Coordinator for Yemen, Jamie McGoldrick, said that years of relentless conflict have devastated the lives of millions of people.
McGoldrick explained in a press conference On Tuesday in Sana'a that an alarming 18.8 million of them- almost two thirds of the population- need some kind of humanitarian or protection support. "This man-made disaster has been brutal on civilians. Some seven million women, children, and men could risk famine in 2017".
McGoldrick  added that ordinary Yemenis are bearing the brunt of a conflict which is not theirs; caused by warring parties who are conducting themselves in a manner that totally disregards their responsibilities to do their upmost to protect civilians while they wage a war that is pushing Yemen further into despair.
"Deliberate military tactics to shred the economy have moved an already weak and impoverished country towards social, economic, and institutional collapse. Half of the population lack access to basic healthcare. Thousands have died from preventable diseases, which shockingly include one child every ten minutes".
He added that Despite the lack of money and adequate humanitarian access, humanitarian partners have provided coordinated aid to millions of people across Yemen's 22 governorates during the past two years. Donors can now help us avert this humanitarian catastrophe, including famine, by funding the US$2.1 billion requirement to help deliver life-saving food, nutrition, water, shelter and protection support to over 12 million people that are in desperate need of help.