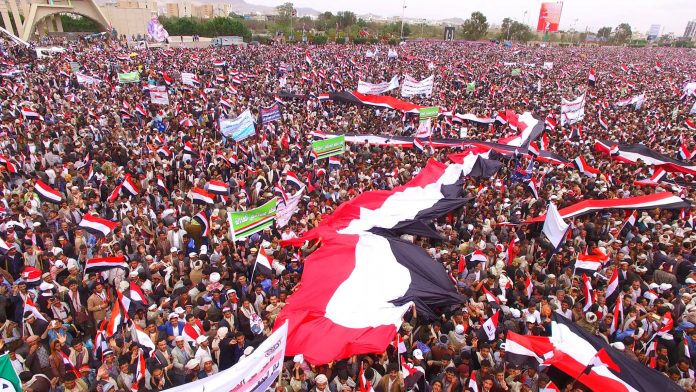 Al-Thawra Net
Thousands of Yemenis have poured out into the streets of the capital Sana'a to mark the second anniversary of the brutal Saudi war, which has left a massive trail of death and devastation across the impoverished Arab state.
On Sunday, the demonstrators converged on al-Sabin Square in Sana'a, waving national flags and chanting slogans against the Saudi military offensive and two-year bloodshed.
Senior Yemeni officials also participated in the demonstration.
Speaking at the event, Saleh al-Samad, the president of the Supreme Political Council, praised the nation's firm resistance in the face of the Saudi aggression and said the Riyadh regime failed to bring Yemen to its knees despite all the money and resources at its disposal.
The official further held Saudi Arabia and its partners responsible for the collapse of the conflict resolution talks between Yemeni warring sides, saying the US and Israel are also in cahoots with the Riyadh regime in its war on Yemen.
"Yemen's resistance, however, proved to be more powerful than any weapon in the world," Samad said.
On the eve of the war's second anniversary, Abdul-Malik Badreddin al-Houthi, the leader of Yemen's Houthi Ansarullah movement, also addressed the nation, saying the kingdom's almost daily airstrikes against civilians are nothing short of war crimes.