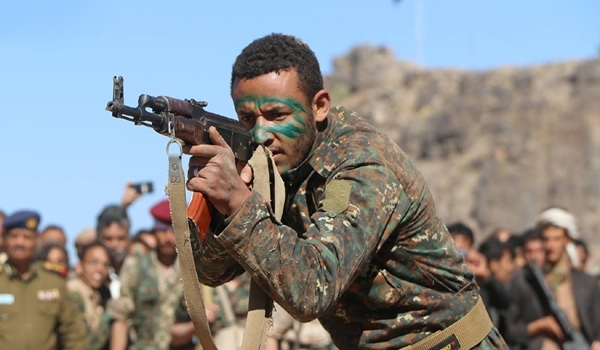 Al-Thawra Net
At least 120 Saudi troops have been shot dead by snipers of the Yemeni Army and Popular Committees' forces in Jizan, Najran and Assir provinces in January, February and March, military source said
The Sniper Unite Of Yemeni Army and Popular Committees killed 74 Saudi-led troops in 22 military bases in Jizan, another 35 forces in nine military bases in Najran and another 10 Saudi-led troops in eight military bases in Assir province.
"A large number of the Saudi-led forces were killed and injured in the Yemeni forces' attacks on al-Beit al-Aswad in Jizan province," the Arabic-language media quoted an informed source as saying.
The source noted that al-Qavieh and al-Beit al-Abyaz military bases in Jizan province also came under Yemeni army attacks.
Also in late March, the official spokesman of the Yemeni Armed Forces, Brigadier General Sharq Luqman, underlined that the country is in possession of advanced missiles which can hit the Saudi capital.
"We have been able to develop our weapons and make progress so that they can hit the Saudi capital," Luqman told al-Mayadeen news channel.
Noting that Borkan-2 missile was the first missile which could target King Salman airbase, he said that new missiles are underway.
After hitting Riyadh, the war in Yemen will enter a new stage and all equations will change, Luqman said.
Reports said earlier in March that Yemeni Army and Popular Committees' forces and their fired a long-range ballistic missile at an airbase in the Saudi capital Riyadh, marking the second such attack on the city.
The Borkan-2 missile accurately struck King Salman Air Base.
The missile attack came in retaliation for the criminal Saudi war on Yemen, Yemeni Military Official Said
Meanwhile, the Yemeni army pledged that missiles would target the Saudi territory until the regime's bombing campaign stops.
It further announced that 108 ballistic missiles have been fired at positions held by Saudi invaders inside and outside Yemen so far.
Separately, Yemeni popular fighters targeted with a Zelzal-1 missile a gathering place of Saudi mercenaries in the al-Ramzah district in the kingdom's Southwestern Jizan region.
They also launched a missile attack against positions held by the mercenaries in al-Maton district of Yemen's Northern Jawf province.