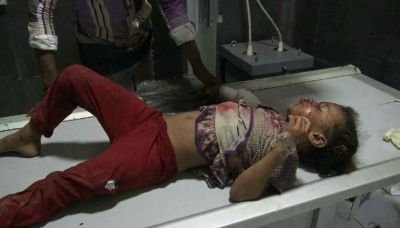 Al-Thawra Net
Saudi aggression  and its mercenaries continued their heinous crimes against the Yemeni people during the past 48 hours which led to the death and injury of a number of citizens including women and children .
A military source told SABA  that the victims of the air raids on Muqabneh triangle increased  to eight martyrs, including women and children.  A pregnant woman killed by a mortar shell fired by mercenaries in the palace round in Salah district Taiz province .
The source pointed out that a Drone plane launched three raids on Al-Barh Muqabneh directorate ,two raids on the Al-Kamb area in the directorate, as well as two raids on  Yakhtall district on Mokha directorate .
The source said that the  aggression warplanes launched 14 raids on different areas on  Sarawah directorate Marib province  and targeted its mercenaries with a raid east of the directorate . A raid was launched on the area of Qutbin Nehim directorate.
According to the source, the warplanes launched four raids on  citizens' farms in Bani Sweid, Dhamar governorate, and five raids on Harad and Medi in Hajjah governorate .
In the province of Sa'ada the source added that the aggression warplanes launched five raids on different areas of Shada directorate ,a raid on Zaher directorate,  three raids on Kataf directorate , 17 raids on different areas of Majazz directorate, and launched a raid on Baqim area .