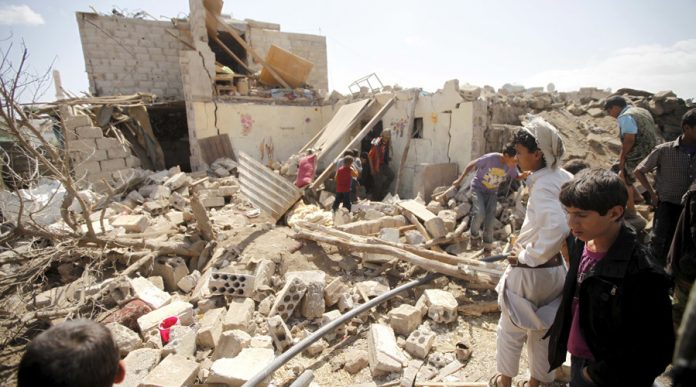 Al-Thawra Net
The US administration solved the growing conflict between the aggression regimes "KSA and UAE" by supporting the fugitive Hadi's resolutions who appointed  Abdul Aziz al-Maflhi as Aden new governor.
The approval came during a meeting between the US ambassador Mathew Tuellur  to Yemen in Riyadh , while Riyadh  and Abu Dhabi keept silent towards the American position that  started doing security efforts to secure Aden province and the others southern provinces  which were the ground of conflicts and chaos caused by the Saudi decisions that overthrew the UEA invaders forces in Aden Province.
The meeting showed a decisive American message to KSA and UEA regimes and their followers in the southern provinces, supporting for Hadi's appointment that overthrew the first UAE  chief  security officer Hani Beb Brik and Aidroos al-Zudidi the former of Aden governor .
The impact of the American message appeared visibly in the Saudi-Emirati aggression  alliance arrangements in Aden province and the other southern provinces .
Not only that but also it showed in their media especially in the counterfeit version of " Saba News Agency" run by Saudi regime that announced news about the meeting between US ambassador to Yemen Mathew Tueller and al-Maflhi  , confirming that the US support the so-called " the legitimacy and the decisions made by the sentenced to death the fugitive Hadi ,as well as to confirm the intention of the US administration to step up its support through opening US Embassy office in Aden .
In his part, the new governor of Aden presented his work program for the next period and the challenges that faced the local authority.
However, diplomatic and political sources said that the American acknowledgment by Hadi's decisions came as a result of precedent understandings between KSA and UAE ran by Mathew Tueller after Washington raises  fears  that could  affecting the international position  against the Washington and the aggression states plane to occupy  .
The same source noted that Washington advised KSA and EUA regimes to control the situation and responding to the protest and the supporting statements calling on Aidroos to stay in his current position, stressing on the important of Supporting Hadi's decisions, while the Saudi regime should present concessions to UAE to control and influence over the southern provinces headed by Aden province.