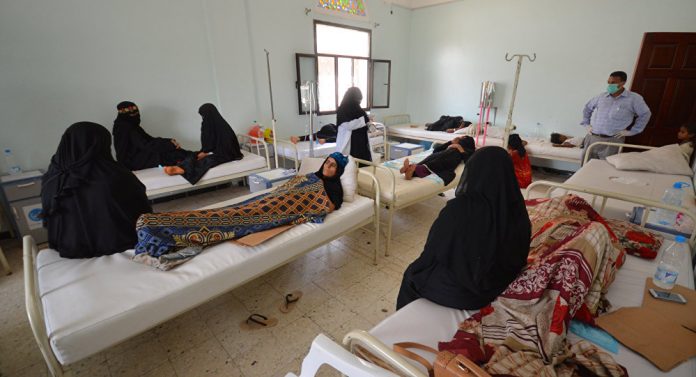 Al-Thawra Net
War and a cholera outbreak have forced Yemen's Sabaeen Hospital into a permanent code black, with patients sleeping three to a bed or on the floor – if they can even find shelter within the hospital walls. Those less lucky are sleeping in tents outside.
Yemen is now entering the sixth week of its second cholera outbreak in less than a year, and the country's health infrastructure is well past its breaking point. Code black is a situation in which a hospital cannot handle the number of patients admitted. With at least one patient checking in at Sabaeen Hospital every minute, its staff is overwhelmed.
"Over the past two weeks, we've been receiving patients at a rate of one or two, sometimes even three, per minute," Ismail Mansuri, a doctor at Sabaeen Hospital, said.
The country saw its first cholera outbreak in October 2016. The disease reappeared in late April, with the United Nations saying that it is spreading at an "unprecedented rate."
Jamie McGoldrick, the UN's humanitarian coordinator in Yemen, said in a May 24 statement, "Hundreds of thousands of people are at a greater risk of dying as they face the 'triple threat' of conflict, starvation and cholera."
Life in Yemen has grown increasingly precarious since 2015, when regional powers joined the conflict there. Fewer than half of Yemen's medical facilities are functional today. Blockaded ports are pushing the country to the brink of famine and mass displacement compounding the issue. Most of the country's water supply has been contaminated by damage to piping, sewage and electricity systems.
Treatment plant engineer Ameen Kasem Heggy said, "Having people living in the sewage plant ground is a disaster. Women and children can easily fall victim to the disease. I want a charity or humanitarian organization to take these people away from here."
Since late April around 124,000 people have contracted cholera with more than 920 deaths, according to official numbers, with 20 of the country's 22 states being affected. Experts project that 250,000 more people will contract the disease in the next six months.
The capital city, Sana'a, has been the most deeply impacted.
Omar Saleh, a member of the WHO's Yemen mission, said the agency "is working to access remote areas heavily affected to reach as many patients as possible … The humanitarian situation is alarming. We are looking at a real disaster. The disease has nothing to do with political affiliations."