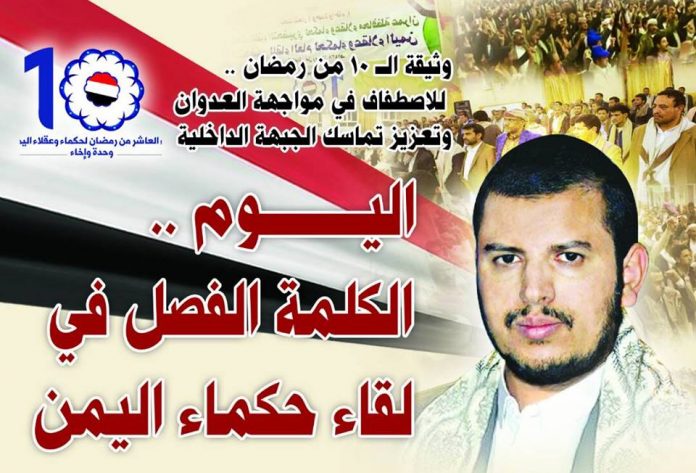 Al-Thawra Net
Jun 5th , The leader of the Revolution, al-Sayyed Abdulmalik Badr al-Din al-Houthi, stressed the importance of the 10th meeting of Ramadan to study all the measures and  necessary procedures   to face  the Saudi-American aggression and to keep the internal front united .
In a speech on the eve of the 10th of Ramadan meeting, al-Sayyed Abdulmalik Badr al-Din al-Houthi said that the aim of this meeting is to enforce and strengthen the internal front.
Since the beginning of the Saudi-American aggression, the forces of aggression tried to achieve their goals by breaking the internal situation, dragging some of the political  components and forces and exploiting the current  problems in the country, al-Sayyed Abdulmalik Badr al-Din al-Houthi added
"The aggression has clearly begun and is not hidden, where America declared its explicit position from  Washington towards the aggression and it provided it with arms and military equipments from missiles and aircraft a as well as political protection in the Security Council, the Saudi regime has come to be involved in the implementation process," , al-Sayyed Abdulmalik added
The leader of the Revolution stated that the crimes of aggression had been recognized by international organizations and prohibited weapons, which had been spoken of by foreign media and photographed, and everything clear and unambiguous, Pointing out that most of the people and all the honorable and free men in this country clarified their responsible position.
He also stressed that the interest required that internal problems should be handled responsibly, indicating mercenaries in the ranks of aggression are humiliated and undignified, but under the decisions of the Saudi Arabian and Emirati.
The internal front headed by  the Ansarullah and the General People's Congress, had made important achievements, chiefly political achievement and the formation of the government, which had enhanced the unity of the internal front, al-Sayyed Abdulmalik said
"Some are still suspicious and have no position against the aggression and are embarrassed to have an honorable attitude, to act with all the force in the aggression front and not to make clear that they are joining the line of aggression," The leader of the Revolution, al-Sayyed Abdulmalik Badr al-Din al-Houthi added.