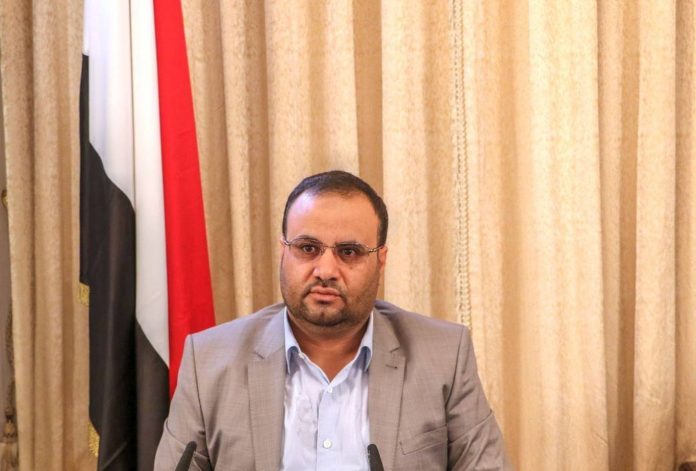 Al-Thawra Net
The head of the Supreme Political Council, Saleh al-Samad attended along with Deputy Prime Minister for Economic Affairs Dr. Husain Kabbouli, Minister of Defense Maj. Gen. Mohammad Nasser Al-Emati, a number of ministers and chief of Staff General Mohammad Abdul Karim Al-Ghamari of the military colleges on the graduation ceremony.
In the military  graduation ceremony of the 50th batch of  25 Naval College and  32 Aviation and Air Defense College, that started with the holy verses of Al-Quran , which was followed by the speech of President of Supreme Political Council. President congratulated the graduating commanders for the outstanding successes they achieved during the training and theoretical rehabilitation and practical stages. He added that the high spirit and efficient consistency of readiness against US-Saudi aggression in the various fronts is the strength and support provided by such programs.
"We are not lovers of wars and we are not against peace, but we are lovers of freedom, dignity and independence. We are with dialogue and peace and with any international or regional efforts made after stooping the aggression and after lifting the blockade," Saleh al-Samad said
" Exalted Heroes, as you prepare today to take off the fields of pride and honor and the positions of sacrifice and redemption in defense of sovereignty, unity and independence of homeland. You have many sacred national responsibilities and duties, foremost of which is the victory for your people and the national choice of freedom, unity and independence," He addressed the brave military graduates.
At the end, the President wishes best of luck and success for the new batch of graduates in all their sacred National responsibilities and duties.
In their part, military graduates emphasized their high combat readiness and their willingness to defend the homeland, its dignity and its sovereignty, taking an oath of Allah, the Yemeni people and the political leadership that they will always be the solid rock on which all conspiracies will be shattered.