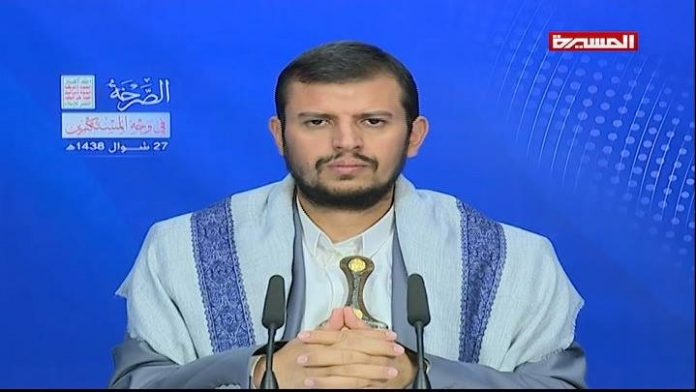 Al-Thawra Net
The leader of the Revolution, al-Sayyed Abdulmalik Badr al-Din al-Houthi, reiterated that the priority is to confront the aggression and not to overlook the escalation of the Saudi-American Aggression Coalition.
Abdulmalik al-Houthi delivered a speech on the occasion of the "Cry in the face of Arrogance" anniversary, calling Yemenis to hold a mass rally in Sana'a and other provinces to mark the distinct voice of Yemenis from the other peoples of the region in solidarity with al-Aqsa and condemning the Israeli danger
"All outcomes of the cheers of freedom that broke the state of silence and formed an internal fortification process which led to a mobilization campaign to counter the Saudi-American aggression unprecedented attack in history, noting that all events since the start of the Scream have been irrefutable evidence to legitimate the move against America," al-Sayyed Abdulmalik Badr al-Din al-Houthi said
"If the Arab silence remains the same, the US will be able to carry out all its objectives simply," al-Sayyed added
He pointed out that most of the regimes in the Arab and Islamic world had a negative attitude towards the American move, "it cannot be said that there was a true position but unfortunately, most of the regimes are subjected to America and to the absolute obedience to implement what America is asking.
"We are facing a conspiracy of escalation by the enemies and the current tendency of the forces of aggression to escalate as much as they can militarily and have attempts in the West Coast and Nihem and Sirwah and the rest of the fronts," he said
He confirmed that Yemen is on the threshold of a new phase of escalation to the end of the year, and everyone has to confront it with force.
"We are not ahead of the elections, but there are incursions into the country so that no country, no people, no nation," he added.
Moreover, the leader of the Revolution stressed that the Yemenis are ready to support the Resistance in Lebanon and Palestine against the Zionist entity during any new military confrontation.
"Your bet on the Yemenis is proper. 'Israel' must beware the Yemeni participation in any of its military confrontations with Hezbollah or the Palestinian resistance," al-Sayyed addressed Hezbollah Secretary General Sayyed Hasan Nasrallah
Abdulmalik Al-Houthi has condemned Washington's so-called campaign against terrorism as a plot by US statesmen to exercise complete control over the Middle East countries, and to achieve their goals there.
"The United States seeks to deal blows to regional nations in the name of fight against terror," he said
He added that the US is determined to target those who are fighting to break Washington's hegemony in Yemen, Syria and elsewhere in the region.