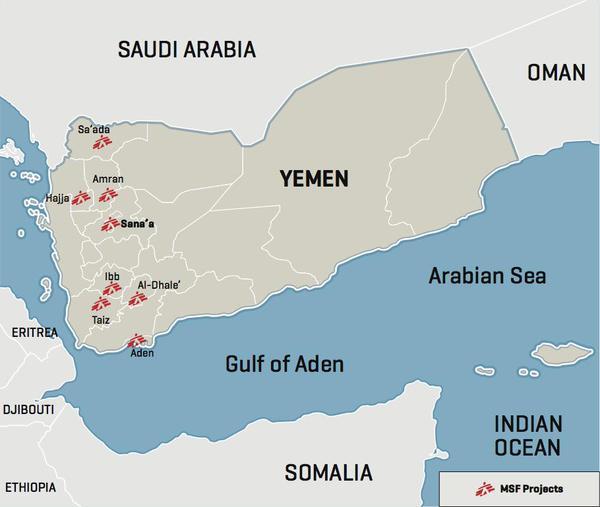 Al-Thawra Net
The conflict in Yemen, which escalated in 2015, has displaced some three million people. Tens of thousands of those forced to leave their homes are in the region of Abs, Hajjah governorate, close to the frontlines and the border with Saudi Arabia. Abs is also the epicentre of the cholera outbreak that has caused more than 1,600 deaths and affected more than 269,000 people since late March 2017.
MSF began supporting Abs Hospital, the main medical facility in the western part of Hajjah governorate, in 2015. On 15 August 2016, an airstrike hit the hospital, killing 19 people and wounding 24 others.  MSF withdrew its staff but resumed activities at the hospital in November 2016. Since the outbreak of cholera, MSF has doubled the scale of its emergency response in Abs district, where teams have treated more than 12,200 patients with suspected cholera and acute watery diarrhoea. Fear of being caught up in the fighting has led many displaced people in Abs to set up informal settlements in remote locations with no public services.
MSF is operating mobile clinics offering regular consultations, emergency treatment, antenatal care and mental healthcare to people living in these settlements, where sanitation is poor and water is scarce.
Unlike in other places, there are no big and structured camps for internally displaced people (IDPs) in Abs: they are generally living in informal settlements – sometimes close to villages/towns, sometimes detached. The usual pattern in the region is groups of households in rudimentary accommodations spread near main roads or deserted areas. Many people are willing to sacrifice their wellbeing and access to services, just to be the furthest possible from ground fighting and airstrikes