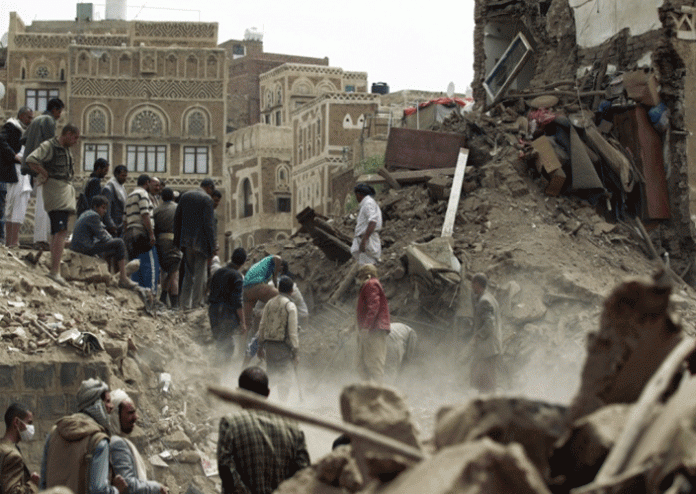 Al-Thawra Net
Army and popular committees artillery bombed  the Saudi army and  its mercenary during the past hours, while the army heroes and committees broke into  several positions on fronts resulted in losses in their ranks and equipment .
A military source told Saba news agency that the heroes of the army and popular  committees stormed the positions  of the Saudi army in Jizan and detonated the fortifications, which resulted in killing and wounding number of soldiers.
The artillery also targeted the surveillance of Chris Joubah position  and a Saudi soldier was sniped in  al-Dabra hill .
The source pointed out that the artillery of the army and popular  committees targeted the Saudi army in the al- Sudais position and hills behind the leadership of Ealb in Najran and  Musayl  valley in Assir .
The source confirmed the death of 11 mercenaries and wounding another in different areas in Taiz province, while a number of mercenaries were killed and others were injured after a rocket and artillery attack on a gathering north of Mokha  . The artillery targeted mercenaries in al-Jadid district Mokha directorate .
The source said that a military mechanism was destroyed in  Assilan district  Shabwa province. The mercenaries suffered losses in  their equipment in an attack by the army and popular  committees on the airport in Sarawah directorate  Marib governorate .
In the province of Al-Jawf, the army and popular  committees artillery targeted the mercenary gatherings in  al-Khib and al-Shaf directorate, causing direct injuries as well as  BMP armored vehicle was destroyed by a  guided missile in al-Mtoun directorate .
According to the source, a group of mercenaries was targeted  by a number of artillery shells north of the desert of Midi .