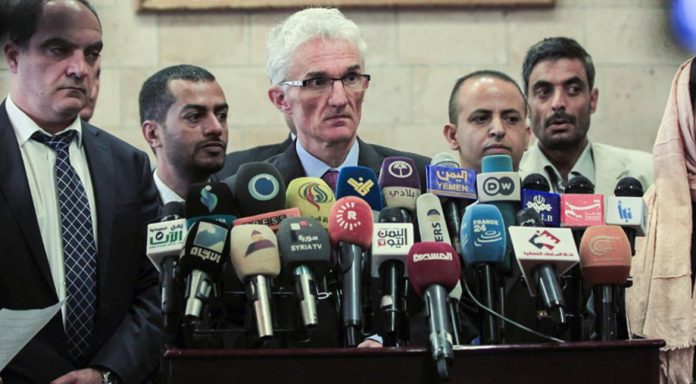 Al-Thawra Net
UN aid chief Mark Lowcock on Saturday voiced alarm at the "shocking" humanitarian conditions in Yemen.
Concluding a five-day mission, his first to Yemen, the UN head of humanitarian affairs and emergency relief said the war in the impoverished Arab nation should end through a political process.
"I came to Yemen to better understand the deteriorating humanitarian crisis, including the fastest-growing cholera epidemic the world has ever seen, the world's largest food insecurity and conditions of widespread population displacement," Lowcock said.
"It's been shocking to see the terrible impact of this man-made conflict," he told reporters before leaving Sana'a.
"The UN calls on all parties… to uphold the highest standards of international humanitarian law and respect human rights with respect to everyone including detainees and journalists," he added.
Lowcock said he saw severely malnourished children, visited hospitals with barely any electricity and water and met health workers who have not been paid for months.
The United Nations is providing direct assistance to seven million Yemenis, but the programme needs to do more and it requires more support, he said.
The UN has described Yemen as the world's number one humanitarian crisis.
More than 8,650 people have been killed in the conflict and around 58,600 others have been wounded, many of them civilians.