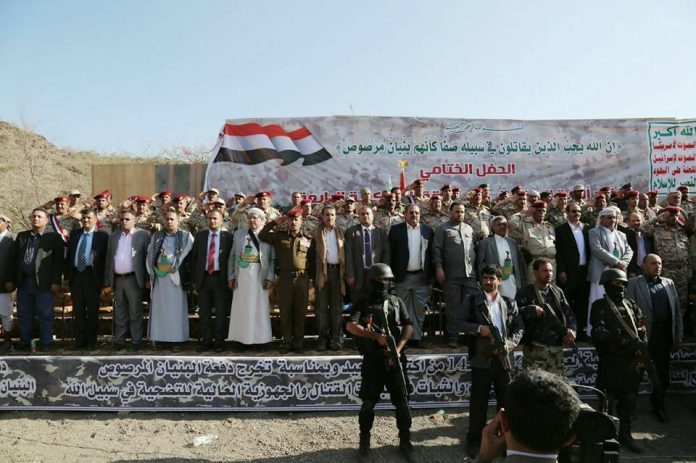 Al-Thawra Net
The head of the Supreme Political Council, Commander-in-chief of the armed forces Saleh al-Samad attended the graduation ceremony of a new military batch in the fourth military region, in the presence of the Vice-President of the Supreme Political Council Dr. Qasim Laboza and council members Sultan al-Samai, Mubarak al-Mashn, Khalid al-Dini , Jaber Wahhabbani , Speaker of the House of Representatives Yahya al-Rai and Prime Minister Dr. Abdulaziz ibn Habtoor.
Al-Samad congratulated the graduates on the occasion of the Yemeni revolution and their graduation coincided with the celebrations of the revolution of Oct. 14, which embodied the sense of pride and the inevitability of victory after three years of steadfastness.
"This move demonstrates the strength of the military institution and its ability to meet the challenge and adapt to the nature of the current phase of the country," he said.
"Those graduates represent the homeland, they take the national flag and rise it high, while the mercenaries raise the occupation flag," he added
President al-Samad also stressed the continuation to fight the aggression forces to achieve a complete victory in which all sacrifices are made, throughout the three-long years of the Saudi-American aggression and blockade.
In their part, military graduates emphasized their high combat readiness and their willingness to defend the homeland, its dignity and its sovereignty, taking an oath of Allah, the Yemeni people and the political leadership that they will always be the solid rock on which all conspiracies will be shattered.