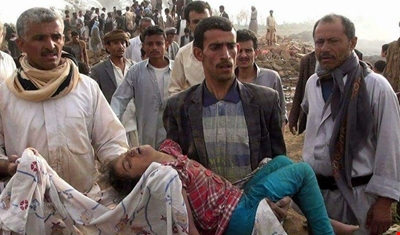 Al-Thawra Net
Saudi American warplanes continued its criminal raids on the governorates of the republic, while Saudi border guards opened fire on citizens, resulting in the death and injury of 15 citizens and one African emigrants in the past hours .
A military source told Saba news agency that nine citizens were killed and four others were injured in  raids the border district of Shada in Sa'ada province .
The source pointed to the death of two citizens and an African emigrant by  Saudi border guards fire in Mnupah  border directorate .
The source said that the aggression warplanes  launched in the province of Sa'ada a raid on Kahlan camp , two raids on the homes of citizens in Baqam directorate and similar  raid on Shada directorate .
According to the source the aggression aircraft launched six raids on the districts of Al-Musloub and Al-Matoun in Al-Jawf governorate and four raids on Yam and Mahli districts in Nehim district Sana'a governorate .
The source pointed out that the aggression warplanes  launched 15 raids on Harad and Midi in the province of Hajja, and seven raids on the city of al-Raboua in Assir.