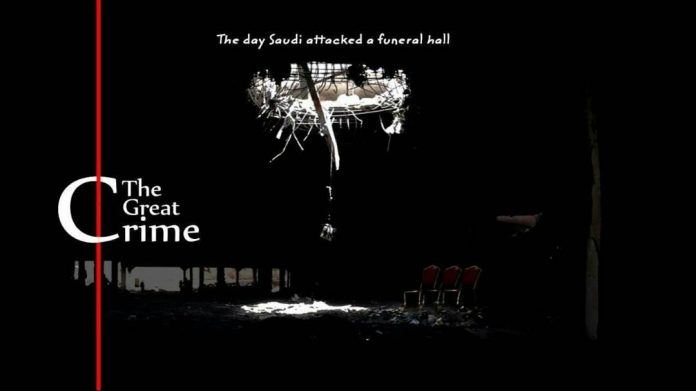 The first anniversary of the Grand Hall massacre in Sana'a coincides with the UN resolution to include the Saudi-led coalition that bombed the wedding hall on that day on the black list of parties committing abuses against children in Yemen. This has stirred Saudi anger before pressure that did not lead to the name of the coalition is similar to last year's report 2016.
The accident at October 8, 2016, was the deadliest in more than two and a half years of the devastating war in Yemen. It is also considered the largest massacre of the Saudi Arabian forces of aggression in Yemen and among dozens of incidents and massacres targeting civilian communities in several provinces.
On October 8, 2016, the Grand Hall was the title of a gathering thousands of Yemenis, including leaders, officials, tribal elders, civilians and military personnel who came to offer condolences over the death of Interior Minister Jalal al-Ruwaishan. As a humanitarian and social event, The Grand Hall "packed with hundreds to thousands of mourners, was surprised the people, and fall a rocket fired by an enemy war fighter, during 3:20 and after about seven minutes the other rocket came, targeting paramedics and wounded and stuck between the rubble, to give a scene of the dead and bloody body parts and injuries and fires.
The bombing of the Grand Hall killed 132 people, including six missing, and about 783 wounded, mostly civilians. Major General Abdul Qader Ali Hilal, Commander of the Reserve Forces, Maj. Gen. Ali bin Ali Al-Jaafy, Chairman of the "Truce Commission", Maj. Gen. Ahmed Naji Mana, member of the Committee Ali Al-Zafif, and many other leaders and officials.