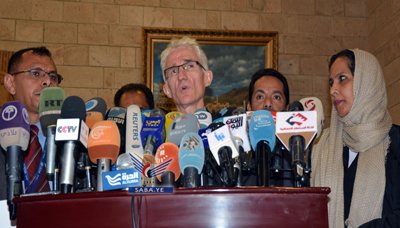 UN Under-Secretary-General for Humanitarian Affairs and Emergency Relief Coordinator Mark Lokoc arrived in Sana'a today for a several-day visit .
The official said in a statement to the media at Sana'a International Airport that his visit comes to see the deteriorating situation in Yemen
"I come to Yemen to my deep concern about the deteriorating humanitarian crisis and millions of people on the verge of famine, suffering from the worst outbreak of cholera, and in need of basic services from water, sanitation and hygiene ." Lokoc said
The Director of the Middle East and North Africa Commissioner for Human Rights Department Mohammed al-Nsour arrived to Sana'a  on a visit to our country to look at the   situation of human rights .
They were received by Human Rights Minister Alia Faysal Abdul Latif and Sana'a International Airport Director Khaled Al-Shayef.