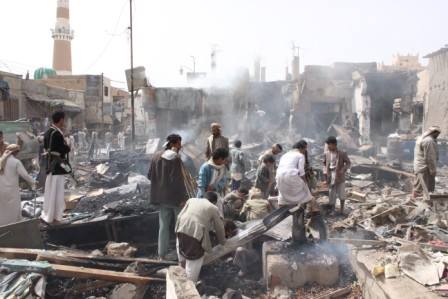 Al-Thawra Net
The Saudi-American aggression warplanes launched tens of airstrikes on Sa'ada province, while the Saudi apache bombed several areas of Jizan .
A military source told SABA that the aggression warplanes launched a raid on al-Hajalah area in Razih directorate and tow raids on Al Saba'ahn in Baqim directorate of Sa'ada province.
The source indicated that the Saudi warplanes carried out six raids on al-Shurfa'a site in Najran and a raid on Majaza'a village in Asir.
Moreover, the source added that the aggression apache bombed Ghamer, Hamida'a and Wadi Jara'a in Jizan with more than 40 rockets.
The same source clarified that the Saudi-American aggression warplanes carried out tow raids on Beiat al-Fageeh directorate in Hodeida province.