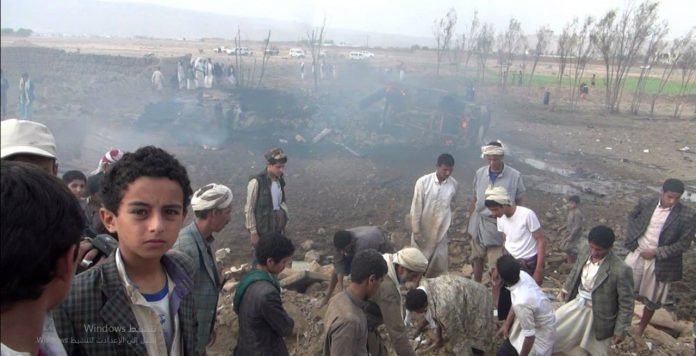 Al-Thawra Net
At least 26 civilians killed and many others were injured in a series of Saudi aggression raids on a number of Yemeni provinces over the past few hours.
A military source told SABA that 15 citizens were killed in Saudi raids targeting al- Sha'aban area in Razih district, as well as killing eight citizens and destroying 3 cars by a raid on Bani Mu'adh area in Sihar district in Sa'ada province.
The same source indicated that the aggression aircraft carried out three raids on  Qitaf district and three raids on al-Sobhan area in ​​Baqim directorate.
In Hajjah province, the Saudi–American aggression aircraft also carried out tow raids on two houses in Al-Zafir district in Mabin directorate  resulting   injures of three citizens,  a raid on Al-Swamel area in Mestabah district and two raids on and WaShahah directorate.
The source pointed out that the aggression air forces launched two raids on Yemen TV Station in al-Thawra directorate in the capital of Sana'a , 13 raids on different areas of Nihem district  in Sana'a, and four raids on Sirwah directorate of Marib province.
The source added that the Saudi-American aggression aircraft launched 12 raids on the positions of al-Shurfa and al-Shabka'a in Najran.