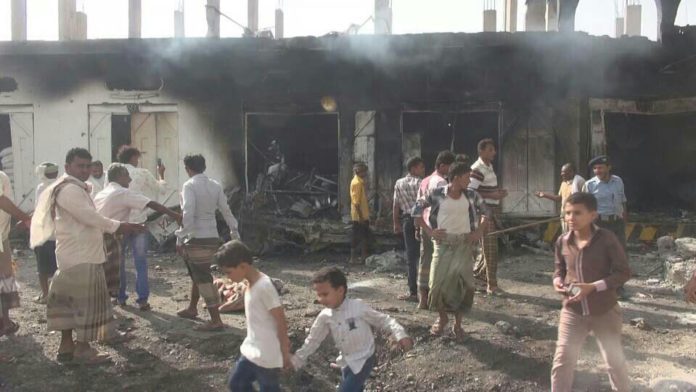 al-Thawra Net
At least 23 Yemeni civilians were killed and ten others wounded when the US-backed Saudi aggression coalition warplanes launched 27 strikes which targeted five Yemeni provinces over the past 24 hours.
A military source told SABA that  at least twenty civilians were Killed, while dozens wounded in three airstrikes which targeted a popular market and nearby gas station in Al-Jarahi district of  Hodeidah province .
Also in Hodeidah province, three civilians were killed when the Saudi fighter jets waged a strike on the main road of Jabr Ras district.
In the northern province of Saada, 13 strikes hit several areas in the districts of Baqim, Majz, al-Dhaher, Saher and Kutaf, causing heavy damages to civilians' properties.
In Marib province,  four strikes targeted several areas of Sirwah district, causing heavy damage to properties of civilians, the source said .
In Nihem district, some 50 km north the capital Sanaa, three strikes targeted Baran, Medrag and Eyal-Mohammed areas ,causing heavy damage to residents' properties, the same source added .