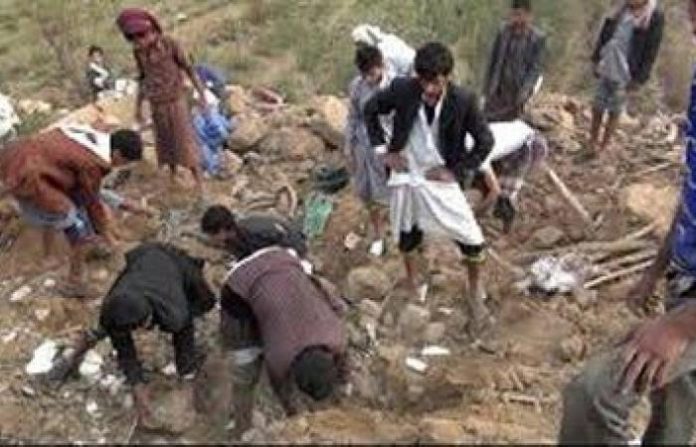 The Saudi-American aggression continue  to commit  horrific crimes using cluster bombs during the past 24 hours, resulting in the death and injury of 32 citizens in Sa'ada governorate, including women and children .
A military source told SABA  that 12 citizens were killed and another was injured in air strike on a popular market in the Wadi al-Abu Jabara district of Kataf. Five citizens were also killed in two raids on a car in the same area .
The source pointed to the death of two children ,wounding a man and three other children in a raid on a house in Baqam directorate. Two women and a girl were injured by another raid targeted a house in the same directorate .
Two  girls were killed, a woman and  two children were injured ,also two houses were destroyed in raids by the aggression warplanes .
The warplanes  launched three raids on Camp Kahlan and Saudi rocket and a artillery attack targeted the border directorate of  Ghamr .
The source pointed out that the  aggression launched a series of raids on the secretariat of the capital, and targeted with  33 raids the areas  of ​​Ghosh and Dalaa Hamdan, and used  cluster bombs .
The source said that the hostile aircraft launched two raids on the directorate of Sarawah in the province of Marib and three raids on the farm of a citizen in the directorate of al-Tahita in the province of Hodeidah .