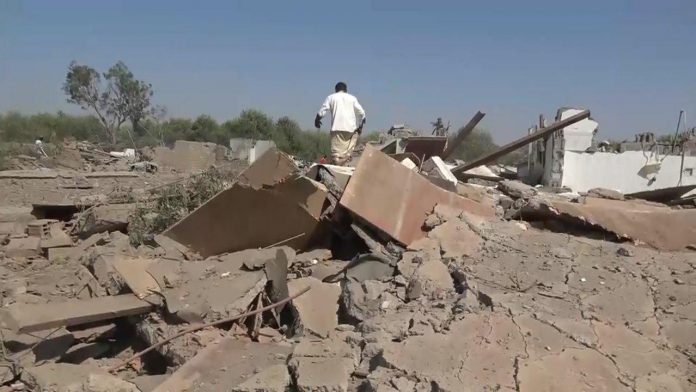 Al-Thawra Net
The Saudi-American aggression warplanes continued its barbaric airstrikes on several Yemeni provinces over the past 24 hours, leaving huge damages to the citizens' houses, farms and properties.
A military source told SABA that the aggression air forces launched 4 airstrikes on al-Azahor in Razih directorate and 7 air raids on the same place.
The source indicated that the Saudi-American aggression warplanes waged 3 airstrikes on Hidan district.
Moreover, the aggression air forces conducted 8 airstrikes on al-Tahyta and al-Jarahi districts on al-Hodeida province targeting the citizens' farms, causing huge material losses.
The same source said that Saudi aggression warplanes waged 9 air raids on Hard and Midi district of Hajjah province, and 5 others airstrikes on Mahaly, Yamand, Maswra areas of Nihem district of Sana'a province.
Meanwhile,, the Saudi artillery shelling and rockets hit several areas of border districts, leaving heavy losses in citizens' properties .
The source added that the aggression fighter jets launched 5 airstrikes on Tala in Najran region.