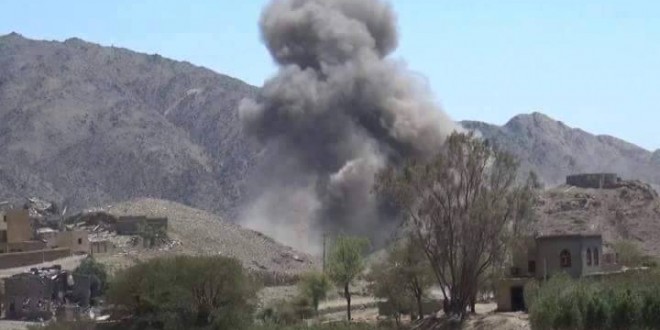 Al-Thawra Net
The US-backed Saudi-led coalition aggression warplanes have launched 26 strikes on several provinces of Yemen over the past 24 hours, according to reports combined by Saba News Agency.
In Sa'ada province, the aggression air forces laumched  three air strikes on Azhwr and Qad areas of Razeh district, Nine air raids on Fard area of Kutaf district.
Meanwhile Saudi missile and artillery force targeted several areas of Shada, Razeh and Munabeh border districts.
In Amran province Saudi-American aggression warplanes waged two airstrikes on Ajmar area of Houth district.
In the Red Sea Port province of Hodaidah, the aggression  fighter jets conducted two air strikes on a civilian's home in east of Hais district, two air raids targeted a civilian's farm in Ghawader area of Bait-Faqaih district.
Moreover, The warplanes of Saudi-led coalition launched two air strikes on two civilians' farms in Jurahi district, causing material damage.
In border province of Najran Saudi-led coalition warplanes carried out Three air strikes hit Sawdat-Adan area of Eial sraih.