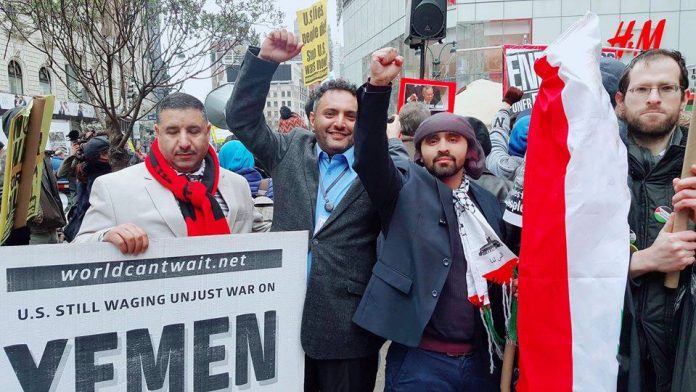 A group of Yemeni, foreign and Arab activists of different nationalities organised a protest in NewYork city in condemn the US-KSA war on Yemen. Ben-norton who is known for his honorable attitude against the US-KSA aggression on Yemen participated in the protest .
The event was headed by the advisor of the Ministry of Expatriates in the United States of America. The protesters called for a halt to the war in Yemen. As well, scores of Syrian's sons who are against the triple aggression on their country participated in the protest.
The protesters repeated some slogans as victory for Yemen, victory for Syria and victory for Palestine.
In March 2015, The Saudi Arabia with its alliance – backed by US have launched a deadly military compaigne on Yemen
During the past three years ,the Saudi-led war had left 600,000 civilians dead and injured.
The United Nations says a record 22.2 million people are in need of food aid, including 8.4 million threatened by severe hunger. A high-ranking UN aid official recently warned against the "catastrophic" living conditions in Yemen, stating that there was a growing risk of famine and cholera there.