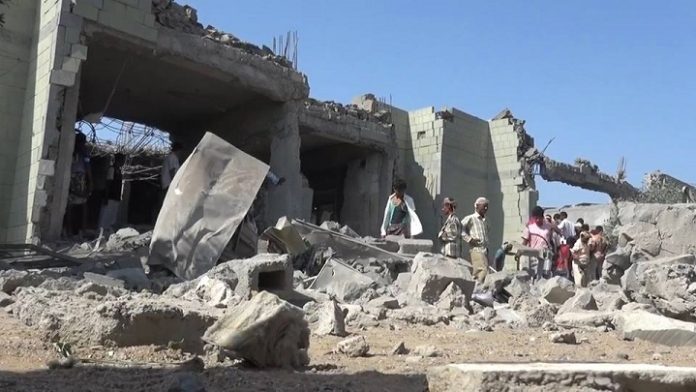 Al-Thawra Net
The US-Saudi aggression warplanes launched more than 54 air strikes targeting citizens and their properties in several Yemeni provinces over the past 24 hours, according to a report combined by Saba News agency on Sunday.
In Sa'ada province, a citizen was shot dead by Saudi border guards in ​​Al-Raqq area of Sa'ada province, while Saudi aggression rocket and artillery shells hit various areas Razih, Ghamr, Haidan and al-Zaher border district.
The aggression fighter jets launched two raids on the new university in  ​​Qahzah  north of the city  of Sa'ada , four raids on al-Mahathar district of Sahar district and two others raids on Al-Hijla area in Razih border district.
Moreover, Saudi aggression warplanes launched two air strikes on Ghamr district, a raid on ​​Akwan area of Safra'a district and eight raids were waged on Sawah , Fara  and Adiyaq areas of Kitaf district.
In Taiz province, a child was killed and two women were injured in airstrikes targeted Haead area of Barah district, while another one was killed in an airstrike targeted his care which was loaded with vegetables in Kamb area of Maqbanah district.
According to the report, Saudi-American aggression warplanes carried out two airstrikes were waged on the near of residential city of cement factory workers in Barah district and Haijah area.
The report indicated that Saudi-American aggression warplanes waged two air strike on the  north of Sana'a airport,  13 raids on Harad and Medi  districts of Hajja province, and  another air strike  on t Karash area  of Lahj province.
The report added that 10 air strikes hit al-Shabakah site and another air raid on Tala site in Najran.