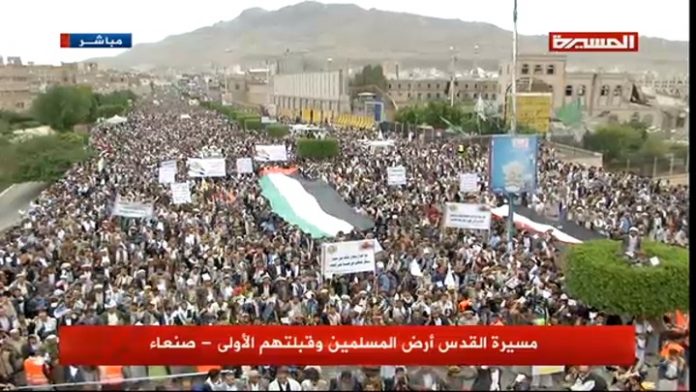 Al-Thawr Net
Thousands of Yemen people gathered at Bab al-Yemen square in the capital Sanaa on Friday to participate in the mass rally under the slogan "Jerusalem, the land of Muslims and their first Qibla" in solidarity with the Palestinian people and supporting Jerusalem.
In the event, the protesters raised the Palestinian national flag and chanted slogans expressing the unity of the Palestinian cause and denouncing the crimes and massacres committed by Zionist aggressions against the resistance and the Palestinian people.
The Yemeni people confirmed their solidarity and stand with the Palestinian people, stressing that Palestinian cause exists in Yemeni people heart, despite the unjust US-Israeli and their tools in the region like Saudi Arabia and its allies.
The statement of the event said that the Arab regimes and the Gulf states s hold responsible for the violations, war crimes and massacres committed against the Palestinian people s by the Zionist enemy and its ally the United States of America.
It also called on all people of the Islamic Nation to do their duty to their first cause and to make a serious move towards to support the oppressed Palestinian people and free the Islamic holy shrines from the Zionist enemy.