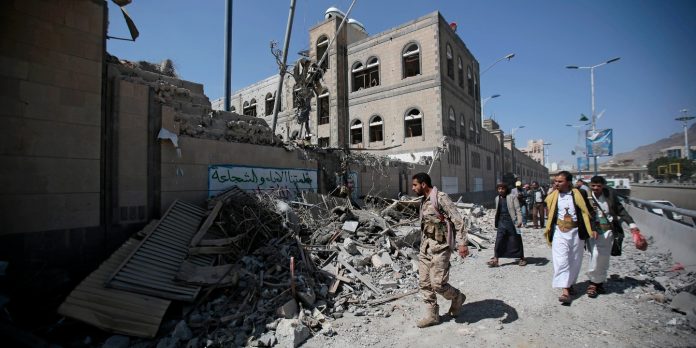 Al-Thawra Net
The Intercept website revealed that the US administration intends to hold new arms deals with Riyadh and Abu Dhabi, including tens of thousands of precision-guided missiles and ammunition, adding that the US State Department has not announced the "precise details" of the deals to be held nor their "worth".
The site, quoting well-informed sources in Congress and the State Department, said that the latter was taking "preliminary steps" to complete the arms deals, estimated at three billion dollars, explaining that the ministry briefed the relevant committees in the House of Representatives, the Senate Foreign Relations Committee on the deal to come, without giving them details of their size and value.
"As soon as the heads and members of the concerned committees give their consent, the State Department can formally notify Congress of the deal, which could take place early next week," the Intercept mentioned.
The Intercept reported on Saudi Arabia's approval in November of buying precision-guided weapons, including smart bombs from the Raytheon manufacturing company, used previously by the Saudi-led coalition against Yemen to raid a wedding party in an area north of the country, last month, referring to the company's efforts to Congress and US administration officials to allow it to sell 60,000 precision-guided bombs to Saudi Arabia and the United Arab Emirates.
The Intercept said the deal was "strongly opposed" by the US Senate because of "growing frustration among its members over the role of the United States in the devastating conflict in Yemen."
The website also noted the outrage of human rights organizations about the continued sale of bombs by the United States to the coalition countries, which participates in the war in Yemen, whereas these organizations documented the use of that type of bombs, specifically in several raids targeting civilian sites.
"Trump's administration has consistently prioritized the sale of arms to Saudi Arabia at the expense of appeals made my countries demanding the coalition to stop committing crimes despite the repeated use of US-made weapons, including the weapons covered by the deal, to carry out illegal raids inside Yemen," said Christine Beckerley, a researcher on Yemen at Human Rights Watch.
"The Congress should look at this as an opportunity to make it definitively clear that some members of the US government are no longer willing to reward Saudi Arabia for its violations (in Yemen), whether its by providing them with more weapons, or taking a risk by involving the United States in the war there, as the coalition continues to bomb weddings, houses and maim the Yemeni civilians," Beckerley told the Intercept.
Source: websites