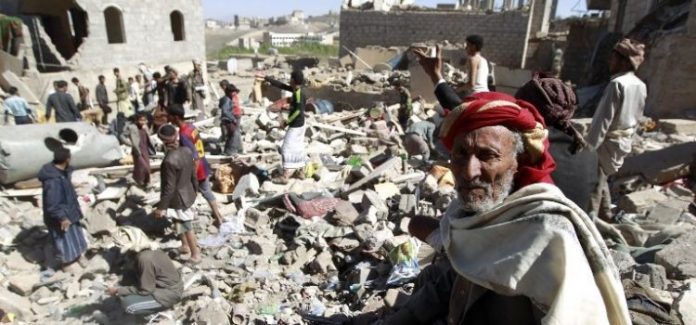 The US-Saudi aggression and its mercenaries targeted citizens and their property during the past 48 hours, resulting in the death and injury of 29 citizens, including women and children, and damage to public and private property .
A military source told SABA that two citizens were killed and a woman and a child were wounded in an air raid on a house in  Baqam district  in Sa'ada province .
A resident   of the border area of Shada was shot dead by Saudi border guards. A woman was also killed and her husband and daughter were wounded by a rocket and a Saudi gunman in residential areas of the border directorate of Razih .
The source confirmed the death of three citizens and the wounding of a fourth in an air raid in the district of Kataf , while the property of citizens were hit by rocket and artillery shelling on residential areas in the departments of Razih and Manbeh .
The warplanes   launched four raids on  Atafin area in the Kattaf district and a raid on the district of Sohar and two raids on Al-Baqa area .
The source pointed to the death of five citizens and wounding eight others  by the targeting of  two cars in the city of Zabid, and launched two raids on the farm citizen in the  directorate Aldrehami in the province of Hodeidah .
The source said that the aircraft launched seven raids on different areas in the directorate of Damna Khadeer and three raids on the road linking the directorates of Damnh Khadir and Al-Salo.
The source pointed to the death  of a man and his wife from Alhaima  by the fire of the  mercenaries aggression at the point of Qania in the province of Al-Bayda .
A truck driver was killed and another civilian was injured when two trucks were targeted in the market in  Al-Qubaytah directorate in Lahj province. Three other raids were carried out on the directorate .
The hostile aircraft launched two raids on the Muzraq area of ​​Hajjah province, two raids on  Sana'a international airport, and three raids on different areas in the directorate of Nehim in Sana'a province .
In Najran, the US-Saudi warplanes launched a raid on the al-Tala position