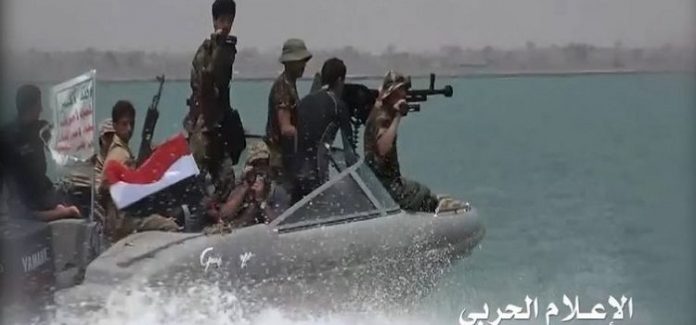 Yemeni Naval Forces on Monday executed a special marine operation, on centralized forces of the invasion and occupation, in Mukha port. The operation achieved its objectives with great accuracy, during which the stored military equipment and command operation rooms were bombed, resulting in dozens of deaths and injuries among the invading forces, including senior commanders.
The operation was carried out from the sea side, which is a big surprise for the enemy, and targeted the marina and the landing dock. The port was packed with military ordnance and ammunition. Loud explosions has been heard all along coastal land and the fire and these explosions are still going until the moment.
It is worth mentioning that the naval forces were able to thwart the landing operation of the enemy naval battleships, which were heading in the direction of the Glefqa coast, south of Hodeidah, on Wednesday June 13, 2018. The operation targeted an Emirati warship by two land-to-sea missiles, destroying it completely.