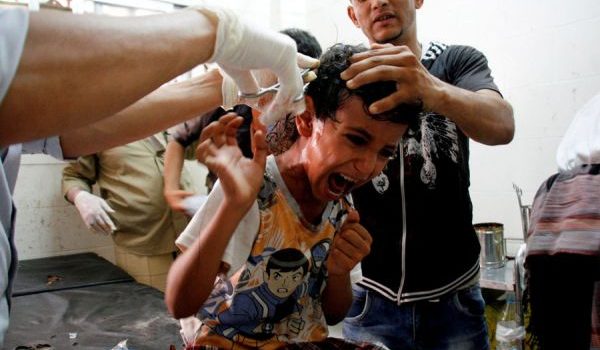 The US-Saudi aggression and its mercenaries continued targeting the provinces of Hodeidah and Sa'ada, killing four civilians, injuring eight, losing a group of fishermen and destroying drinking water wells and private property during the past 24 hours .
A security source told SABA  that a man, his wife and one of his children were killed and four others were injured from the  same family with shells and artillery from the mercenaries south of al-Tahta in Hodeidah province .
The source confirmed the death of a child and wounding four, including two children and a woman after the targeting of their house in al- Husseiniya area directorate of Beit al-Faqih, and also targeted three fishing boats near the island of Akban and the loss of all fishermen .
Five air raids destroyed several drinking water wells on the island of Kamran .
The source said that hostile aircraft launched in the province of Sa'ada several raids on the directorate of al- Zaher and a raid on the directorate of Kataf and two raids on the school in the directorate of Razih, and launched four raids on the property of citizens Baqem directorate .
The source pointed out that a rocket-propelled grenade and a Saudi artillery targeted populated villages in Minabah Border directorate and damaged property of citizens. The farms in Al-Zaher directorate and the home of a citizen in Ghafrah area were shelled and damaged .