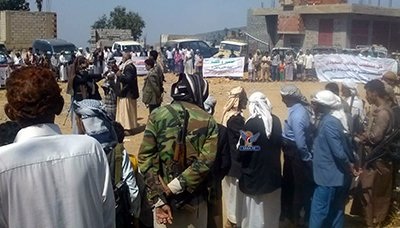 Al-Thawra Net
A mass rally was held Mahweet province on Saturday in protest against the obstruction of the national delegation participating in Geneva consultations.
In the rally, Governor of Mahweet province Ahmed Hidar said that "the aggression forces (Saudi-led coalition countries) through these arbitrary measures aimed deliberately to prolong the war and commit more crimes and violations against the Yemeni people."
The participants in the rally issued a statement, in which they held the international community responsible for the worsening humanitarian crisis in Yemen.
The statement called on the United Nations to bear responsibility to ensure the success of the consultations and to pressure to stop the unjust war against the Yemeni people.