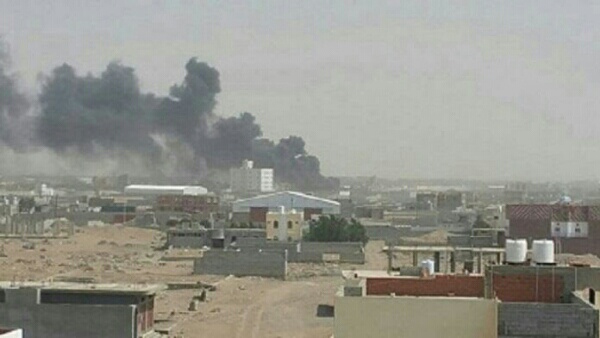 Aggression aircrafts launched 22 raids on four provinces, while mercenaries continued to breach the cease-fire agreement in the province of Hodeidah during the past 24 hours.
A security source told the Saba news agency that heavy bombardment of the invaders and mercenaries  targeted the village of Al-Zafran inal- Durahmi directorate. They also fired machine guns at Al-Shajan village in the directorate .
The source said that the sniper mercenaries targeted a number of places in Al-Dbayani neighborhood in the July 7 residential area , and forces of the aggression shelled  with machine guns and artillery the airport and the Faculty of Medicine.
The source pointed out that the mercenaries shelled a number of artillery shells at City Max and the Oasis Hotel and targeted various areas south of the city of Hodeidah.
The source confirmed that the spy planes flew heavily in the sky of the southern and eastern directorates, while a military bulldozer of the forces of aggression developed fortifications east of the youth city on 90th Street.
The source pointed out that the  aggression launched three raids on the area of ​​ Suhar, and three raids on the directorate of Baqam, while Saudi bombing targeted  houses and farms of citizens in Baqam and villages and various areas in the directorate of Shada.
The source pointed out that the aircrafts of aggression launched three raids on  Harad and Midi districts in the province of Hajjah, and five raids Blad al-Rua's  in Sana'a. Saudi warplanes launched eight raids on Dhamar province.