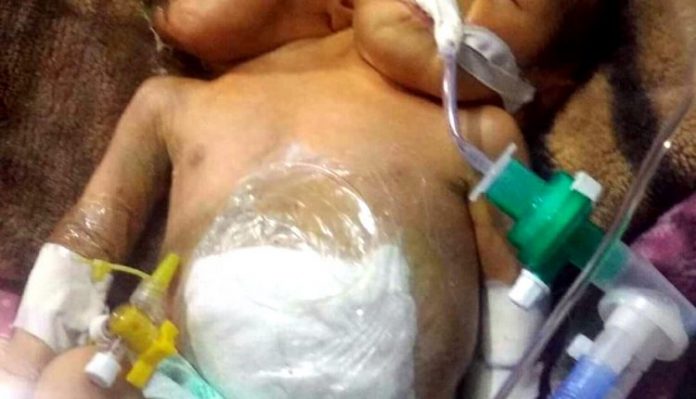 Al-Thawra Net
The Saudi-UAE-led coalition on Yemen has decided to ignore appeals to save the lives of the two Yemeni children, Abdul Rahim and Abdelkhalek al-Haimi, and to sentence them to death.
The Minister of Public Health and Population Dr.Taha al-Mutawakil called on the international organizations operating in Yemen to send a plane to save the life of twins and the opening of Sanaa International Airport urgently, according to the Official Saba News Agency.
"The two children share the same chest and trunk and need a complicated surgical procedure abroad, not in Yemen because hospitals cannot perform this operation because of the lack of medicines, equipment and medical supplies because of the US-Saudi coalition war and their all-out blockade imposed on Yemen," Dr. al-Mutawakil told a news conference at the hospital.
He called on the international community, organizations and humanitarian coordinator in Yemen to quickly send a plane equipped with the necessary equipment to transport the two children with a medical team along with the Yemeni medical team and open the Sanaa International Airport for patients urgently.
He pointed out that a specialized medical team was formed to supervise the situation of the two children.
He pointed out that the number of children killed by the aggression of the aggression coalition has reached 3720 martyrs and 3263 wounded, including 615 handicapped.
"Every 10 minutes a child dies in Yemen and more than 400,000 children are suffering from severe acute malnutrition, while about 2 million children are malnourished," he said.
Dr. Al-Mutawakel explained that about 250 children died of measles, pointing out that more than 15 thousand children were infected by the disease during 2018.
He pointed out that there are more than eight thousand patients with renal failure need to travel for treatment abroad, in addition to 37 thousand patients with cancer.
The Minister of Health held international organizations and the international community fully responsible for delay or non-response to save the lives of the two children.
Meanwhile, the medical team specialized formed by the Ministry of Health and the supervisor of treatment of children that this case is one of the rare and complex cases that can not be treated in light of the hospitals in the country of the lack of equipment and medical supplies as a result of aggression and siege.
They called on the international organizations, in particular the World Health Organization (WHO) and UNICEF, to help save the lives of the two children and equip a private jet and a specialized medical team to be transferred to any specialized medical center in the world.
The medical team pointed to the increase in congenital deformities among newborns as a result of toxins and gases resulting from the aerial bombing of cities and residential neighborhoods during the period of aggression.