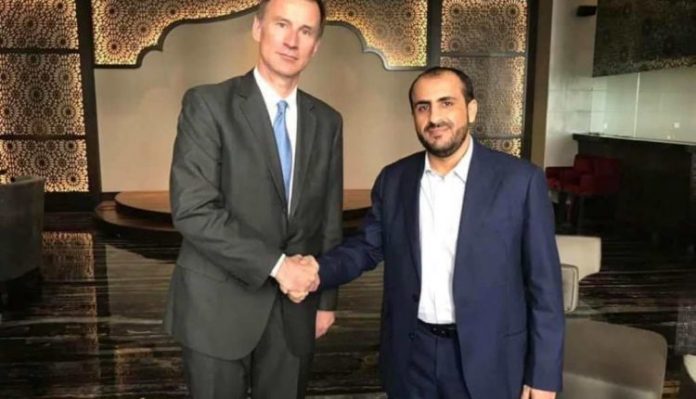 Al-Thawra Net
The Head of the national delegation to Sweden talks, Mohamed Abdulsalam on Friday said the political leadership in Sanaa adheres to Hodeidah agreement and all agreements as approved in Stockholm and rejects any attempts to insert new things in them.
During a meeting in Muscat with British Foreign Secretary Jeremy Hunt, Abdulsalam reviewed the most important challenges facing Sweden agreement and the obstacles that Saudi-led coalition is making to evade its implementation.
Abdulsalam referred that the coalition attempted to evade an agreement on the redeployment plan presented by head of the Coordination Committee Michael Lollesgaard for the first phase after all parties approved it.
He expressed his surprise the silence of the United Nations about what he called "intransigence" of the other party.
"Our delegates to the Coordination Committee remained committed to the first phase plan as presented by Lollesgaard and they are ready to implement it unilaterally if the United Nations asks for that," he said.
For his part, the British Foreign Secretary confirmed his country's offices with all parties in Riyadh and Abu Dhabi to push the peace process forward and support the agreement, expressing concern over the delay in its implementation that should be carried out as soon as possible.