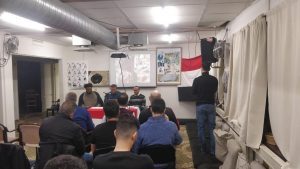 Al-Thawra Net
The Insan humanitarian organisation, in cooperation with the Peace Organisation and the Lebanese Cultural Association in the Swedish city of Malmö have organized a seminar and photo exhibition on Friday regarding the situation in Yemen under the Saudi-led aggression coalition.
The event came in conjunction with the fourth anniversary of Yemeni steadfastness against the US-Zionist arrogance and its declared war on the Yemeni people.
Participants in the seminar and exhibition thanked President Mahdi al-Mashat for his honoring ceremony for the activists.
They also denounced the war crimes committed by the Saudi-led aggression and the shameful global silence towards what is happening in Yemen.
The seminar further discussed fallacies made by the coalition in the military intervention in Yemen, as well as Yemen's National Salvation Government's earnest pursuit of peace.
The speakers addressed the Stockholm agreement on Hodeidah and the obstacles in its implementation caused by the Saudi-led coalition and its militants on the ground, as well as the economic blockade.