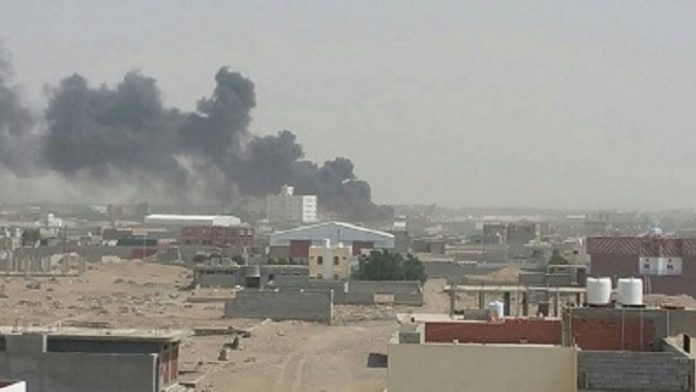 Saudi aggression warplanes launched a series of raids on a number of governorates of the republic, and Saudi border guards killed a citizen. The invaders and mercenaries continued to violate the cease-fire agreement in Hodeidah province during the past 24 hours.
A security source told Saba that the invaders and mercenaries fired more than 40 artillery shells and heavy machineguns at the village of Al-Shijan and the surrounding area of al-Durahmi city ,  in the province of Hodeidah.
The source said that the forces of aggression bombarded with 11 artillery shells and heavy and medium machine guns on the airport Hodeidah and Dbayani neighbored and towards the Union Hotel in the area of ​​July 7th .
The source pointed to the intensive bombing of mercenaries with medium and heavy machine guns on various areas and neighborhoods in the street of fifty in the city of Hodeidah.
The source confirmed that a citizen was killed by the fire of the Saudi border guards in the ​​ border Directorate of Manabah in the province of Sa'ada.
The source said that the warplanes launched a raid on the wreckage of a spy plane belongs to them, which was shot down south of the capital Sana'a.
The aggression warplanes launched three raids on Al-Aamil area in the outskirts of Harf Sufyan district in 'Amran governorate, 17 raids on the Abs district in Hajjah province, and launched two raids west of Najd Al-Faris in Najran.