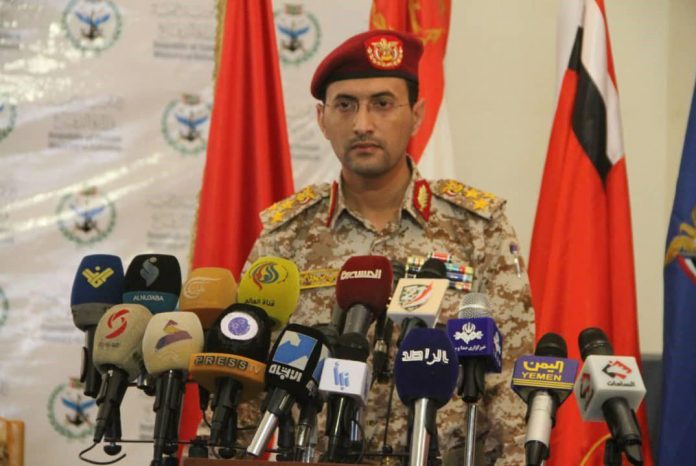 Al-Thawra Net
The spokesman of the Yemeni Armed Forces, Brigadier Yahya Saree, has released the latest statistics of Saudi-led coalition causalties during April.
During a press conference held on Sanaa, he issued a press release highlighting the operations of the Army and Popular Committees in April.
He mentioned some figures and statistics that indicate progress in the field of operations for the benefit of the Army and Popular Committees.
Brigadier Yahya Saree further highlighted the Yemeni army's strong desire to revenge the crimes of the two martyrs, Al-Sammad and Al-Hamdi. The Armed Force considers it to be a priority in the near future.
He said that during April, the military forces carried out 43 offensives, 55 attacks on enemy forces on various fronts and 86 special operations, killing and injuring a number of them and destroying their military equipment.
In Dhalea front, Brigadier Saree confirmed that Armed Forces with a number of southern People succeed in securing areas in Dhalea, Bayda, and Taiz provinces, confirming that the operations do not target the people of the southern provinces.
The Anti-Armor Unit launched 107 operations targeting 20 armored vehicles, 6 tanks, 17 military vehicles, 6 military bulldozers and 45 fortifications of the US-Saudi mercenaries, he said
The Engineering Unit targeted 85 machinery, 4 tanks and a gathering of the US-Saudi mercenaries, in April, he added.
He also indicated that the air forces launched a number of unpublished operations and 6 cooperative operations with the Artillery Unit, targeting a number of Saudi sites.
The Snipers Unit conducted 1487 operation targeted 21 Saudi-soldier, 32 Sudanese, hundred of the US-Saudi mercenaries and damaging 29 mechanisms, pointing that the next period will witness surprising combat tactics for the Sniping Unit's operations, the Yemeni army spokesman added.
The spokesman stated that the US-Saudi aggression launched over 350 raids on several governorates. The Yemeni Army has encountered 97 attacks and failed 17 infiltration attempts.
Saree said that footage for the destruction of the military and armored vehicles will be released.
About the Stockholm Agreement, the spokesman confirmed the commitment of the Armed Forces to the agreement and reserving the right of responding to any escalation.
On the other hand, the Saudi-led coalition has committed 3602 violations of the cease-fire in Hodeidah by the mercenaries during April, increasing the number of violations to19924 violations since the entry of the cease-fire into force in December last year until the end of April.