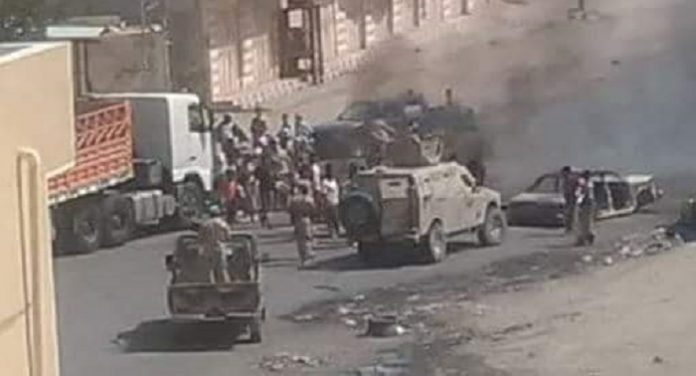 Al- Thawra Net
The forces of the so-called First Military Zone, which belongs to military commander in the Saudi-backed Hadi regime, Ali Mohsen Al-Ahmar, have on Monday raided the homes of a number of members of the Al-Kathiri tribe in Hadhramaut province in eastern Yemen, local sources reported.
According to the local sources, the forces of the military zone stormed a number of houses of tribal members belonging to the Al-Kathiri tribe, on charges of sheltering al-Qaeda elements in the city of Seiyoun, injuring a number of them.
This comes as the exiled Hadi and Al-Ahmar forces continue to attack and terrorise citizens under various pretexts.
On Monday, fierce clashes broke out between tribal groups and Saudi-backed exiled Hadi's forces in Yemen's southern province of Hadhramaut.
The sources added that tanks and heavy arms were used during the confrontations between Hadi's forces and Al Kathiri tribes in Seiyun city.
Moreover, a security official in Yemen's southern province of Hadhramaut escaped overnight from a bomb blast hitting his car, sources said on Monday. The bomb was planted by unknown militants in officer Fakhreddin Mahdi al-Habashi's car in Eidain area.
The occupied south and east of Yemen have been witnessing extensive violence between Saudi-backed forces and UAE-backed separatists. The fact that the raid by al-Ahmar's pro-Hadi troops came under the pretext of fighting Al-Qaeda is notable, as recent reports spoke of a close cooperation between al-Ahmar's Islah Party and Al-Qaeda units in southern Yemen.