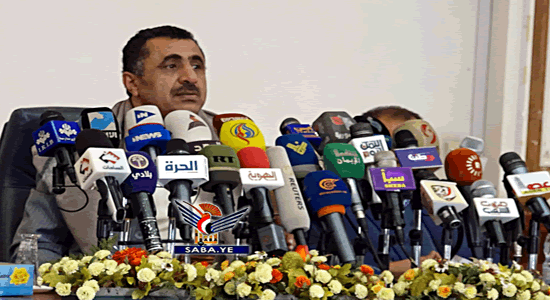 Al- Thawra Net
Yemeni Minister of Oil and Minerals Ahmed Abdullah Daress has on Saturday called on the United Nations, humanitarian organisations and the international community to put pressure on the Saudi-led aggression coalition to release the seized oil derivative ships.
In a press conference held in Sana'a by the Oil Ministry and the Yemeni Petroleum Company (YPC), the minister warned of a humanitarian catastrophe that would cast a shadow on various vital and service sectors due to the continued holding of oil derivatives ships.
The aggression coalition is currently holding nine ships carrying a total of 103,394 tons of gasoline and 109,387 tons of diesel, despite the fact that they were inspected and granted permits by the United Nations, according to the minister.
The Oil Ministry held, in a statement, the United Nations, international organisations and the international community responsible for the ongoing results of the unjust siege and the continued prevention of the oil ships from entering the port of Hodeidah.
The statement noted that the Ministry, represented by the YPC, has done what it can to provide oil derivatives to the local market, but noted that the last ship loaded with diesel arrived at the port of Hodeidah more than 50 days ago.