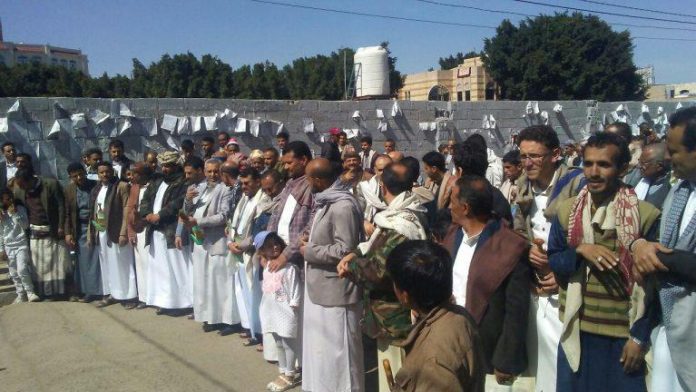 Al-Thawra Net
Employees of the Yemeni Petroleum Company (YPC), trade unions and its affiliated Bodies have on Friday staged a vigil in front of the UN Headquarters in the capital Sana'a after Friday prayers under the title "Your silence is a war crime."
At the vigil, the company spokesman Amin al-Shabbati confirmed that the aggression coalition is continuing its arbitrary measures by detaining oil ships and preventing them from reaching the port of Hodeidah.
Al-Shabbati noted that despite the fact that the aggression has added another ship to the list of detained oil vessels, the UN envoy had spoken in his briefing to the UN Security Council, claiming that oil derivatives ships were arriving at the port of Hodeidah unhindered and that "the crisis had been avoided."
The total number of ships held by the aggression reached to five oil ships carrying 52,000 tons of gasoline and more than 80,000 tons of diesel, he said.
Al-Shabbati condemned the UN silent and shameful positions towards the detention of oil derivative ships.
The protesters called on the United Nations to do its duty and play its role in the way it should.
They confirmed their continuation of the open sit-in protest in front of the UN Headquarters until all the demands of the protesters are met.
These demands include releasing all oil derivatives ships, facilitating their access to the port of Hodeidah and the ensuring that they do not detain them in the future.
The protesters also reiterated their calls on the UN to ensure that Sana'a International Airport, Ras Issa port, and the Petroleum company and its facilities will be kept safe from being targeted by the invaders.