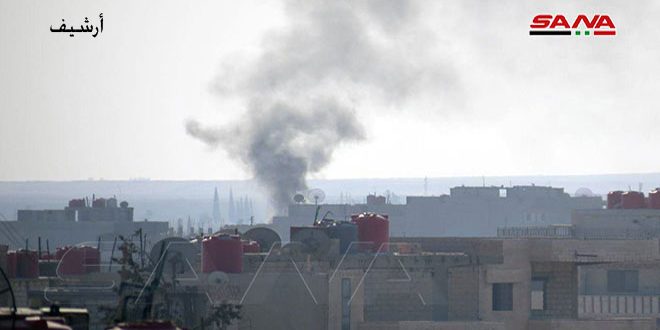 Al-Thawra Net
More than 25 Syrians were killed and injured as a result of an attack carried out by terrorist groups supported by the Turkish occupation forces on Syria's Tal Rifaat town in Aleppo's northern countryside.
The state-run SANA news agency said that mercenaries of the Turkish occupation forces fired shells on Tal Rifaat, claiming the lives of more than 9 civilians, most of them women and children, and injuring 16 others, in addition to causing material damage to infrastructure and residential buildings.
SANA added the attack took place at a time when students were leaving schools, and that the number of martyrs is likely to rise because some of the injured are in critical condition.
Two civilians were injured on Monday evening in a shell fired by terrorists on al-Maut roundabout in Aleppo City, meanwhile five shells landed on Project 3000 in al-Hamadanyia, and no casualties were reported.
Terrorist groups deployed in Afrin and Azaz areas in Aleppo's northern countryside frequently target Tal Rifaat town with shells and missiles, which leads to casualties among the citizens.