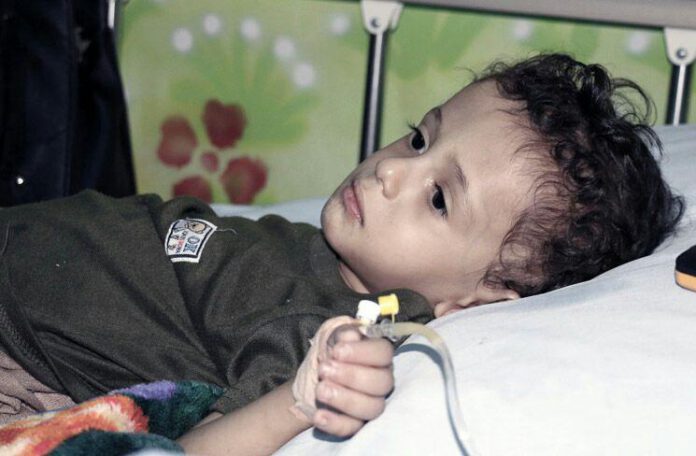 Al- Thawar Net
Amin al-Junaid, director general of Kuwait Hospital confirmed that dozens of children with " Leukaemia" are dying as a result of the unjust blockade and embargo on  Sana'a airport  imposed by Saudi-led coalition against Yemen.
On Friday,  Al-Junaid said  in a statement that Leukemia  Center at Kuwait Hospital is the only center that  provides services  to hundreds of patients with leukemia.
He noted that the siege imposed by Saudi-led aggression coalition has had a great impact on the treatment of children with cancer.
Al-Juniad further pointed out that there are dozens of deaths due to lack of medicines and modest possibilities.
" Thirty percent of children with Leukaemia could be saved if they were taken abroad for treatment in specialized centers, but this is rendered impossible as a result of the closure of Sana'a airport," he said.
He noted that the hospital does not have access to chemical drugs and delivered them to patients. "There are other medicines, devices and radiotherapy that patients need are prevented of being imported by the Saudi aggression,"he added.
For her part, Naseem al-Abbsi, deputy director of the Children's Leukemia Center, revealed that leukemia has spread dramatically among children in recent times and we receive 6 new cases every month.
"Pediatric leukemia cases are special and the patient needs three years of treatment and diagnostic sessions in the light of the great difficulties we are facing ", she added.
"We have 700 registered cases at a center that lacks medicines and patients need full health care and cannot afford expensive medicines," she said.