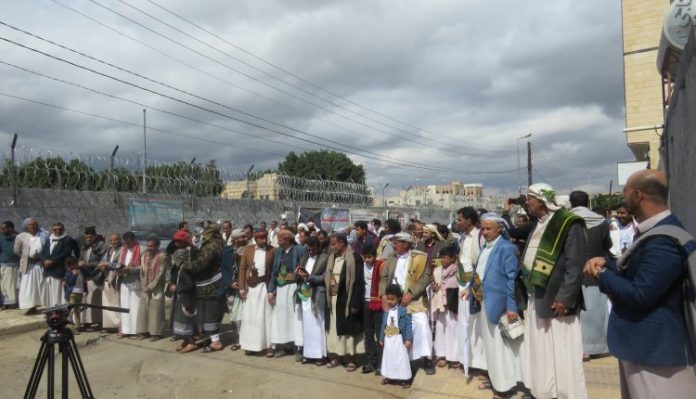 Al-Thawra Net
The Yemeni Petroleum Company (YPC)'s staff and unions on Friday organized a protest in front of the United Nations office in Sanaa, for the 42nd Friday in row.
In the protest, titled "UN is an aggression serving tool", the Company's spokesperson Ameen al-Shabati said that the Saudi-led aggression coalition is still holding five oil ships loaded with more than 115,000 tons of petroleum products at sea, despite obtaining permits from United Nations.
Al-Shabati expressed his hope that the visit of the UN envoy to Yemen Martin Griffiths would be fruitful, and that oil derivatives ships would be released and not be detained in the future.
A statement, issued during the protest, called on the United nations to take its responsibility towards the besieged Yemeni people and do the role entrusted to it Yemeni without impartiality.
The statement indicated that the United Nations has turned into a tool serving the aggression coalition because of its disregarding for the coalition's arbitrary practices of holding ships.
The statement demanded that the United Nations should work to lift the ban on Sanaa International Airport and Ras Issa port and to neutralize the YPC and its agent stations from targeting.