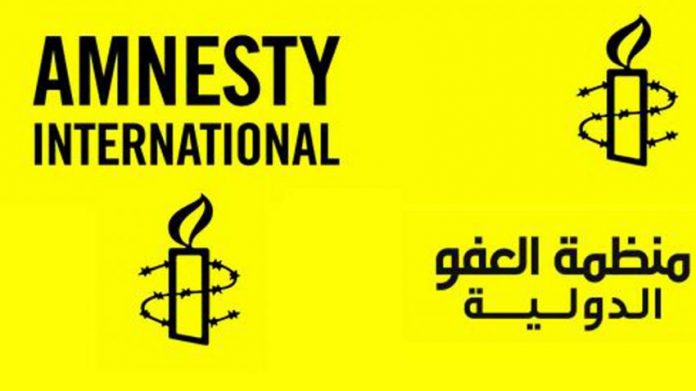 Amnesty International's report, released on Tuesday, on human rights situation in the Middle East and North Africa region during 2019, accused the rulers of Abu Dhabi of widespread human rights violations in the UAE and Yemen.
The report criticized the UAE's continued participation in the Saudi-led coalition in Yemen, confirming that the coalition was involved in war crimes and other serious violations of international law, as well as providing weapons and military equipment to the warring militias in southern Yemen. Ii added that the state security apparatus in the Emirates endeavored to expose detainees (citizens and foreigners) to arbitrary detention, torture and enforced disappearance, in addition to the authorities imposing restrictions on freedom of expression, placing critics of the government in prisons, and holding them in appalling conditions.
In its report, Amnesty International indicated that it has documented numerous cases of violations of the rights of detainees by the State Security Agency, as people were arrested without a warrant, detained without permission to communicate with their families or lawyers, for weeks or months, and were tortured.
The report reviewed some disgraceful cases, in which detainees suffered degrading conditions in custody, for example, what Alia Abdel Nour, who was suffering from cancer in its later stages, was exposed, and she passed away while she was chained to her hospital bed in the city of Al Ain, Abu Dhabi Emirate. After being arrested in 2015 by SSI agents, she was placed in solitary confinement and forcibly disappeared for three months.
On May 15, three Lebanese were convicted of terrorism-related charges after being detained by the State Security Agency for a long period without contact with the outside world, and then they were subjected to unfair trials, as one of them was sentenced to life imprisonment, and the others were sentenced to ten years imprisonment, and the State Security Prosecution accused them of carrying out acts in favor of Hizbollah.
The report criticized the suffering of expatriates, as a result of the unjust bail system, which makes them vulnerable to exploitation and other violations, as well as low wages, compared to the standard of living in the UAE, and the lack of adequate housing for expatriates, or ensuring health care or other services, where they depend on their wages to have access to basic services.