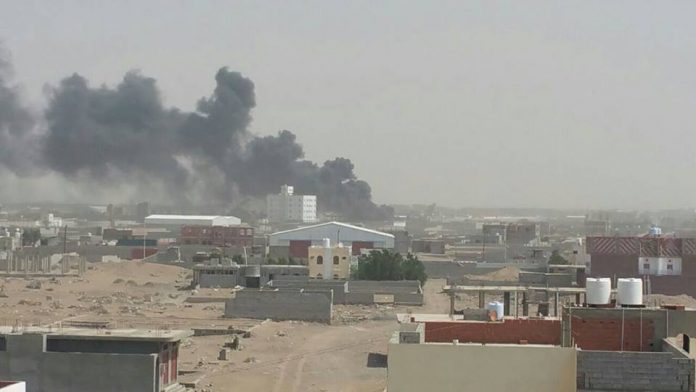 The invaders and those involved in treason continued to violate the ceasefire agreement in Hodeidah Governorate, while the aircraft launched seven raids on the governorates of Ma'rib and Al-Jawf during the past 24 hours.
A security source said that the aggression forces fired ten artillery shells at the Al-Dabyani neighborhood in the July 7 residential area of ​​Hodeidah.
The forces of aggression bombed more than 30 artillery shells, two Katyusha rockets, and various machine guns, the mountainous area of ​​Al-Tahita district, and targeted with 8 artillery shells in the Al-Faza area and east of the city of Al-Tahita.
The source pointed out that two military bulldozers of the aggression forces had introduced new combat fortifications west of Al Jabaliya in the district of Al-Tahita, and the forces of aggression had shelled mortars and machine guns at various locations in the kilo 16 of the Al-Drahami district.
The source pointed out that the forces of aggression targeted two of the besieged city of al-Drihaimi  Katyusha rockets and bombed the village of Al-Shujan with more than 51 artillery shells and various machine guns on the homes of the citizens, as well as seven artillery shells on the outskirts of the village.
The source confirmed that the forces of aggression carried out an attempt to advance  on the besieged city of al-Drihaimi from three tracks, which lasted for hours, with the support of warplanes and with more than 35 armored vehicles, one vehicle and one tank.
The source reported that the aggression launched three raids on the Al-Ghayl district of Al-Jawf governorate, and four raids on the Al-Jawf junction in the Majzar district in the Ma'rib governorate.
The source strongly condemned the criminality of the aggression and its mercenary for  targeting citizens 'properties and their livelihoods in the various governorates of the republic.