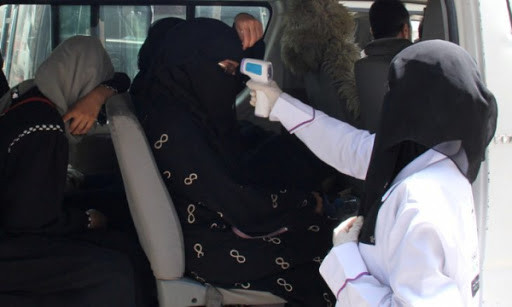 Al-Thawra Net
About 1,400 African migrants on Sunday left the quarantine center in al-Hazm city of Jawf province, in preparation for deporting them to their countries through Hodeidah port.
An official in the local authority in Jawf said that the local authority, in cooperation with the security services, seized more than 2,000 illegal African immigrants, who had been deported by Saudi regime from Najran to Jawf province.
He explained that the immigrants were subjected to quarantine procedures in the quarantine center in al-Hazm city and they left in batches under the supervision of the security services to be deported through the port of Hodeidah.
About 500 African immigrants are still in the al-Hazm quarantine center, and they would be deported in the coming days, the official added.
He emphasized that the local authority and security services have intensified their campaigns to arrest African migrants coming from Saudi Arabia, as part of precautionary measures to confront Corona virus.
In this regard, the official denounced the Saudi regime's continued deportation of African migrants to the province in a manner that contradicts Islamic and human values with the aim of harming the Yemeni people and spreading the Corona virus, especially in light the epidemic spread inside Saudi Arabia.
He called on international humanitarian organizations and the International Organization for Migration to carry out their duties and urgently intervene to assist the local authority, support quarantine centers in the province, and organize the transfer of migrants to their countries.