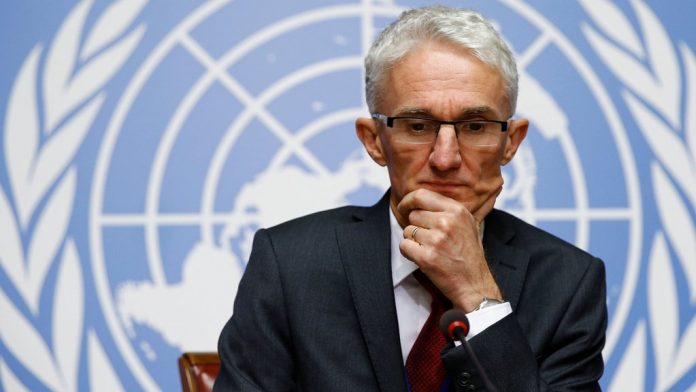 The humanitarian situation in Yemen could be kept stable with the necessary funding to humanitarian organizations, which would also help with the country's political process amid the COVID-19 pandemic, the UN humanitarian chief told the Security Council today in a closed virtual briefing.
"Humanitarian agencies can still, with adequate funding, keep the humanitarian situation stable. That's what we all want to do. That will also help with the political process," said the UN Under-Secretary-General for Humanitarian Affairs and Emergency Relief Coordinator, Mark Lowcock.
"So … there is a stark choice before the world today: support the humanitarian response in Yemen and help to create the space for a sustainable political solution. Or watch Yemen fall off the cliff," he added.
Briefing the Security Council on five priority issues – protection of civilians, humanitarian access, funding, the economy and progress towards peace – Mr. Lowcock emphasized that none of the issues is moving in the right direction.
He also noted that COVID-19 is spreading rapidly across the country. About 25 per cent of Yemenis confirmed to have the disease have died – a figure that is five times the global average.
With Yemen's health system in collapse, many more coronavirus cases and deaths are going unrecorded, and burial prices in some areas have increased by seven times compared with a few months ago.
"COVID-19 is adding one more layer of misery upon many others. As the Prime Minister of Yemen said earlier in the month, a macabre humanitarian tragedy is imminent," Mr. Lowcock stressed.
The UN humanitarian chief underscored that a situation where a severe domestic economic crisis overlaps with a sharp drop in remittances and major cuts to donor support for humanitarian aid – all amid a "devastating" pandemic – has never before been seen in Yemen.
"At a minimum, we can expect many more people to starve to death and to succumb to COVID-19 and to die of cholera and to watch their children die because they are not immunized for killer diseases. So I call urgently on all Yemen's donors to provide predictable foreign exchange injections to avoid total economic collapse. This must be in addition to humanitarian funding, which I again urge donors to disburse immediately and to consider increasing," Mr. Lowcock said