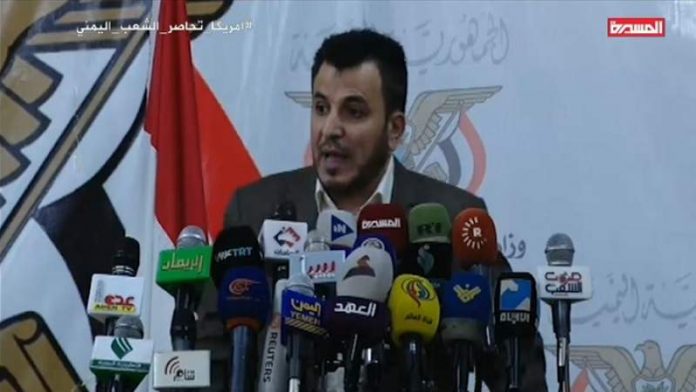 Al-Thawra Net
The Minister of Health and Population, Dr. Taha Al-Mutawakkil, warned Thursday that hundreds of thousands of patients are at risk of dying due to stopping the organizations from providing their aid amid the spread of epidemics and the continuation of the blockade and preventing the entry of fuel ships.
The Minister of Health stated during a press conference with the Supreme Council for Administration and Coordination of Humanitarian Affairs that intensive care in public and private hospitals is threatened to be stopped due to the lack of oil derivatives.
He added that the crisis of oil derivatives doubled the suffering of the health sector, as its work is currently limited to the emergency departments and part of the operations, confirming that the oxygen factories only operate 50% due to the lack of oil derivatives.
Dr Al- Mutawakkil pointed out that over 4000 patients with kidney failure who need dialysis will be affected because they are unable to reach the centers of dialysis or the centers are not operating due to the oil crisis as that US-Saudi aggression continue detaining the fuel ships.
He noted that ambulances are currently limited to work within cities and no longer move between governorates or transport patients to governorate centers, calling on the world to intervene to release fuel ships.
Al-Mutawakkil explained that the siege prevents repairing the medical devices, noting that after six years of aggression and the siege 93% of medical devices went out of service, and that all MRI devices had been disrupted.
He pointed out that the aggressive coalition also prevents the entry of drugs, especially drugs that need to be cooled, which increases the suffering of patients, especially cancer patients.
Regarding the announcement of international organizations to withdraw, Al-Mutawakkil said: In light of the imposed siege of Sana'a airport and the detaination of oil tankers, many organizations officially announced their withdrawal from providing the health services.
He stressed that the withdrawal of organizations from humanitarian work is a further siege and participation in the killing of many Yemenis, especially since they only provide the minimum services.
The Minister of Health held the international community and the aggressive alliance responsible for the health crisis consequences of the organizations' withdrawal from providing services in the health field.
Dr. Al-Mutawakkil sent an urgent appeal to break the siege by an air bridge to send medical aid, as well as lift the siege and allow the entry of oil derivatives tankers.