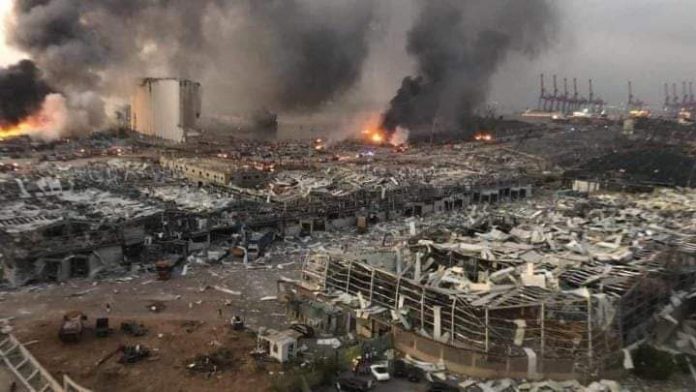 Al-Thawra Net
The death toll of Tuesday's Beirut port explosion has risen to more than 100, and nearly 4,000 people have been injured, Lebanese Red Cross Secretary General Georges Katana said.
He added that the toll is likely to rise as more people were missing under the rubble.
Lebanese media sources reported that dozens of  people are missing due to the explosion that destroyed the port of Beirut yesterday, pointing out that the Lebanese army imposed a security cordon in the vicinity of the port of Beirut.
Lebanon's Director of General Security, Abbas Ibrahim, said the explosion was caused by a fire in a depot storing 2,750 tonnes of highly explosive material, including ammonium nitrate, that had been confiscated 'some time ago.'
Medical sources said that Beirut hospitals are providing medical assistance in the cars' park after their rooms filled with wounded.
Lebanon's Supreme Defence Council declared Beirut a disaster city and recommended to the government to declare a state of emergency after the explosion in which dozens of people were killed and thousands injured.
Several countries extended their condolences to Lebanon for the victims of Tuesday's massive explosion in Beirut's port, which killed dozens and injured more than 2,000.
Lebanese Prime Minister Hassan Diab called on "friendly countries" to help the country already reeling from the biggest economic crisis it has faced in decades, exacerbated by the Covid-19 pandemic.