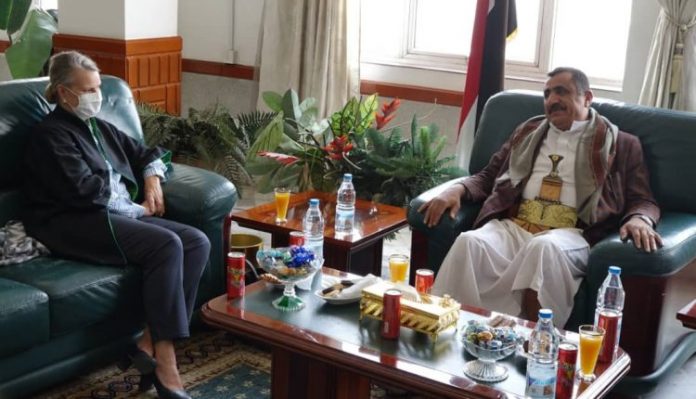 Al-Thawra Net
Minister of Oil and Minerals Ahmed Daress on Wednesday discussed with the United Nations Humanitarian Coordinator for Yemen Lise Grande the consequences of continual holding of fuel ships by Saudi-led coalition.
In the meeting, the oil minister reiterated that the situation is very dangerous and has become catastrophic due to the depletion of oil derivatives in the Yemeni Petroleum Company's stocks, noting that the coalition's continued abusive practices increases the deterioration of the supply situation and widens the map of human suffering.
Daress confirmed that the four ships, which were released, did not meet the needs of the service sectors from oil derivatives, as the volume of domestic consumption of gasoline only reaches more than ten million liters per day.
The released quantities of benzene and diesel do not exceed 27 percent and 17 percent of the total actual need from both materials in the normal situation, he explained.
The oil minister renewed his call for the United Nations to pressure the coalition countries to allow the entry of fuel ships to the port of Hodeidah in order to help provide oil derivatives to the service sectors.
For her part, Grande expressed her readiness to redouble her humanitarian efforts to communicate and coordinate in order to expedite the release of the oil derivatives ships to alleviate the suffering of the Yemeni people.