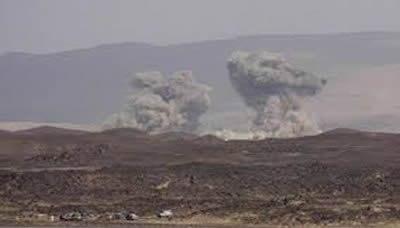 Al-Thawra Net
A woman was injured by a Katyusha missile as the aggression forces shelled the village of al-Manqm in the besieged city of al-Duraihemi in Hodeidah province after a missile fell on her house.
It is worth mentioning that the aggression forces in Hodeidah continued to violate the Hodeidah ceasefire agreement within the past 24 hours,  a military official said to Saba on Wednesday.
The aggression forces committed 93 violations, including seven raids by a combat spy plane on al-Duraihemi, five warplanes over the skies of the areas of Hodeidah city, Kilo 16, al-Mandhar.
The official said that the aggression forces also launched six spy planes in the airspaces of al-Tuhaita, al-Jabalia and al-Faza areas in Hodeidah.
They committed 12 violations by bombing more than 80 rockets and artillery shells, and 86 violations with different bullets, the official added.
The aggression forces' spy planes also bombed the city of al-Duraihemi with more than five rocket-propelled grenades, the official said.
Meanwhile, the US-Saudi aggression coalition warplanes waged a raid on al-Dhaher district in Saada province and four raids on Haradh Customs Department in Hajjah and three raids on citizens' homes in al-Mazrak area in Haradh district in Hajjah province.
The official indicated that the aggression warplanes launched five raids on Majzar district, four raids on the districts of Madghal and Serwah, and six raids on al-Jouba district, as well as four raids on Rahba district and a raid on Mahliyah district in Marib province.
The aggression warplanes launched six raids on Khab Washaaf district in Jawf province, the official  concluded.